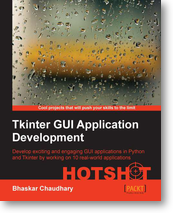 It has been a long time since I blogged! So I would like to make a comeback with one of the most important achievement of mine in this year. In the last week of July I received an email from Packt Publishing to see if I can be a technical reviewer of a book that they were about to launch. The book is titled Tkinter GUI Application Development Hotshot. The book is written by Bhaskar Chaudhary, who is highly experienced in the field of education and software development. So it was basically a book on programming with Tkinter, a GUI toolkit of Python. For those who don't know, this is was the first offer I got to be a technical reviewer of a book. I had used Python very extensively in my graduation days. However, my experience on the GUI development front using Python was limited. But I was elated with this offer and took it up anyway. To contribute to the project better I revisited the GUI application development using Python. And when the work finally started my enthusiasm level was so high that I was able to submit review of all the chapters of the book with time to spare. 🙂
Let me walk you through the book contents and the presentation. The way the book is written is amazing because it keeps the readers engaged instead of getting bored with the heavy technicality that GUI application development can provide when you are using Python. The first chapter is all about basics, which you will need regardless of what kind of GUI application you want to develop. The examples that are used to explain these core functions are of good quality and they help you understand what is intended properly. After the first chapter there are a series of amazing projects of different kinds that will widen your horizons on how you can leverage the power of Tkinter into GUI development. Inclusion of topics like multi-threading, database driven applications, network driven applications and software development concepts, makes this book wholesome. The final chapter comes up with a variety of ideas where you can use Tkinter and tries to cover those areas which were missed in the preceding chapters. The coding style is impeccable and every piece of code is explained, so you don't have to guess what the code may be doing. Everything that you can think of has been covered in this amazing book and I learnt a lot as I reviewed it.
The book however considers that you have a decent enough understanding of Python coding and can work with modules and libraries. But even if you do not know the language in depth, you can learn it as you read this book. To add on to the benefits, the book is available at a very affordable price in both hard copy and soft copy format. So please make the most of it by buying it and adding to your software development experience using Python and Tkinter.