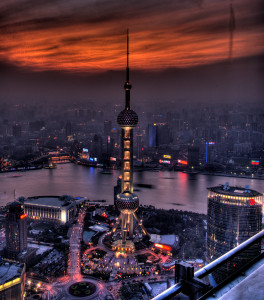 It has been exactly a week since my arrival in one of the largest cities of Asia, Shanghai. On my first night I was taken by my fellow Indian friends to a nearby restaurant of dinner and drinks, and although I didn't eat anything it was a good sight to see people who will be my fellow companions for the next eighteen months (possibly more). At first it seemed like a vacation; my hostel room is much bigger than what I had in during my undergraduate days, it has AC and stuff; the institute in itself has a very beautiful campus with almost all facilities; the location of the college is posh; the list goes on. For a person who has never been out of his home country this one week had too much to take in. I was taken around the city and shown some important places by a friend and all I could say, every now and then, was "Wow".
My friends in India ask me how my experiences with Chinese have been and I have to say I am pretty happy for the way they have treated me till now. Everywhere I have been I was welcomed and supported if needed help. Tomorrow I am going to apply for my residence permit which is a huge deal for me, legally living in another country :P. The friends I have here have been great companions till now and I am sure I can befriend more when the college starts.
Little lost as of now with respect to the content of what I should include more. All I can say the first week in Shanghai has been great and I hope it keeps getting better. I haven't settled in yet and still living out of boxes as always. I am neither sure if I can put a deadline on the settling time nor am I sure if I will settle at all, but I guess, as always, I will be fine.