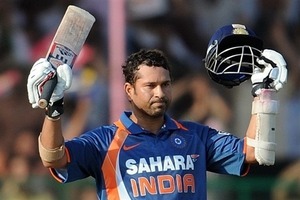 The newspapers, radio stations and social networking websites are buzzing with the news that Master Blaster Sachin Tendulkar has been nominated to the Rajya Sabha. Sachin has been nominated along with yesteryears' Bollywood actress Rekha and business leader Anu Aga. This is not the first time that sportsmen and celebrities turn into become MPs, what makes this news worth of the all the marketing and buzz its creating is matter of fact that Sachin is the first active sportsperson to be nominated to the Rajya Sabha (and of course the fact its about Sachin 😉 ). Recently former Indian Hockey Captain Dilip Tirkey too was sworn into Rajya Sabha, but Dilip has retired from international hockey quite some time back; Sachin on the contrary has not shown any signs of such a decision. Lets take a look into what I feel Sachin should do to this offer.
Let me start the reasoning with a question, Boring Rajya Sabha or another Cricket World Cup?As great an opportunity as it may seem to be part of a pack that leads the Nation; viewing the current state of affairs in politics I personally feel that Sachin should refrain from getting into this. Sachin has always been a role model for the youth of the country and even around the world, his attitude on and off the field has been nothing less than exemplary. Even the television commercials he signs for, are done after a great deal of pondering, because he knows that with billions in the fan kitty a celebrity of his stature has a lot more responsibility off the field than on. So technically, if he is so good, he should become a parliamentarian. But lets take a step back and reassess the situation by picturing what will happen if Sachin does become a MP. He'll be surrounded by people who have been in politics for more time than Sachin has been on the field playing cricket. Sachin of course will be getting affiliated with a party, which he will be deciding on his own depending on the parameters he thinks are good for the Nation and him. But we all know what a mess has the Indian political system been and Sachin will have to first actually reform the stringent and stiff Indian Polity before he can use it as a weapon as good as his bat to push the nation forward. I will not be surprised if he is used as a pawn by someone to will in the vote banks, which is not what any of his fans want.
So should Sachin never join politics? Ideal case, he shouldn't 🙂 because we all know he loves cricket more than the parliament. But he can, may be after 20 years when is mature enough to understand the so called experts in this field who fool the nation everyday. But anyway even if he decides to step into politics I suggest him to become a part of it only after a retirement, although ideal scenario will be he becoming coach of the Indian Cricket team and bringing another World Cup to India.