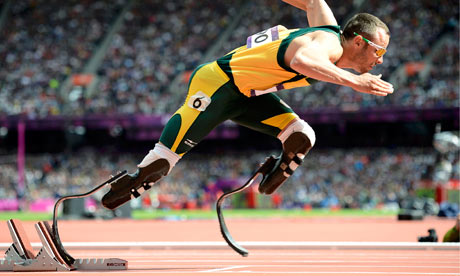 Why do I Run? Every morning, it doesn't matter if I get baked in the sun or freeze in the chilly winds or get drenched in the rain and trip in the consequential mud, I run… So my friend asked me why do I run? Why do I support the sport of running when there are so many other problems to be addressed? So I said, because running is within everyone's reach; all you need is an upper body and the earth. She teased me to point out we run using our legs, I said indeed we do, but take a look at the picture above the post, its of Oscar Pistorious. And as I write this post, he qualifies for the semi finals in the London Olympics 2012 400m race event. For being a an athlete you need your heart more than your limbs, you need passion more than skills. Everybody is an athlete, they just have to believe in.
Coming to my story- I started to run, not because I liked it or because I was good at it; it was because I was slow and not a very graceful runner, to put it mildly. While young and playing games with my childhood friends, I was an easy target as I was neither agile to run around like a deer nor did I have the pace of a cheetah. Then my dad introduced me to running for fitness purpose, not short sprints, but to long tiring runs. I used to pant while running, short on stamina I used to stop few meters away from my goal, then my dad used to pull me (not literally 🙂 ), I learnt not to give up when I cant go anymore. Then I grew up and I became a little more independent and running then was alone, the stretch became longer and went into wee hours, I learnt to make most of my time and wake up when half the world is sleeping in their cozy beds. Running then, was for achieving the perfect body of an athlete, I tried but could hardly succeed, however am not fat and did manage to get the most wanted six packs. On reaching home I would feel the pain in my legs, but gradually it became a part of life, I learnt to endure. There used to be days when fatigue got the best of me very early in my run and there were days when I felt I could run endlessly, I learnt to accept failure as graciously as success, running made me humble.
Nowadays I run to get my calm, to forget my office, my boss and my unappealing work. With music pouring in my ears masking the sound of my deep breaths, I run. Its the only time in the day I am at the peak and feel spiritual. During my run I pull the young kids who get tired in their massive efforts to run and inspire them to reach the goal and even beyond, just like my dad inspired me; I learnt to inspire and treat everyone equal.
I run to disprove people who told me that I couldn't run long because I have a flat feet.
I run for my health.
I run to relax.
I run to put my worries aside.
I run to put myself together when I am falling apart.
I run to be with the nature.
I run to increase my limits, to become limitless.
Sports is a powerful medium to make a better world, this is how:
Sports teaches individuals to learn to manage their emotions, accept winning and losing.
It teaches groups to live together and respect oneself, others and the rules.
It teaches one to overcome social, psychological and physical handicap.
It teaches groups to satisfy the instinct for competition by fair combat.
Sports transcends colors and sex.
Blends Colors, the Olympic flag for instance.
Promotes mutual acceptance.
To carry on in the toughest circumstance.
It gives hope.
It teaches people to BELIEVE.
If you think sports promotes differences because of competition and that you don't like your opponent, you may be right as a spectator, but the opponent still earns your respect.
So, why do I run? I run because its a sport that anyone can play anywhere, the most accessible sport. Run, because it makes you a better person and better people make a better world.