This is the third of its kind of tutorial to use modem on Ubuntu. I have previously given tutorial on using MTS Mblaze modem on Ubuntu 10.04 (Lucid) and Reliance Netconnect CDMA 1x on Ubuntu 8.04 (applicable till 9.10). Looking for the latest version of Ubuntu with Reliance 3G, check this out.
There are some changes in the hardware of the modem these days and hence the technique to mount and use them is also different, but it has become very simple now. What I am going to tell here is about Huawei EC150 model Reliance Netconnect Broadband+ . This is not 3G, but as far as I think the way to use the 3G modem will be similar. So follow the steps and get yourself connected.
1. Make sure that you have following packages — wvdial, usb-modeswitch, usb-modeswitch-data. In case you cannot access internet from Ubuntu then use the links provided with the package name. It is however better that you use Synaptic Package manager to install things. For wvdial I have uploaded a tar.gz file on my website itself but for usb-modswitch and usb-modswitch-data you need to download it from the package manager or the link provided. Ubuntu 10.10 comes with installed usb-modeswitch and usb-modeswitch-data
2. With this done its piece of cake. Make sure that you have restarted your system after installing the modeswitch package. Now plug in the modem and you need to go to the network manager in the top panel and right-click, select Edit Connection.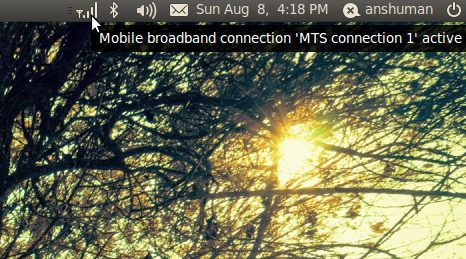 3. Select Mobile Broadband tab and click on Add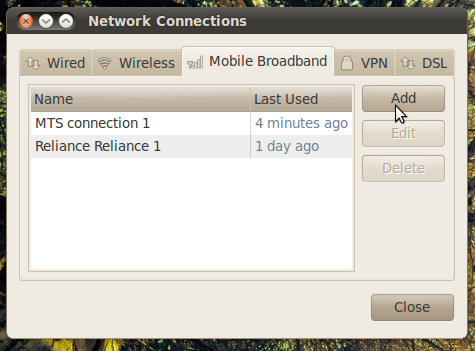 4. This is the window that opens up and select Huawei Technology thing from the Drop down box, it'll be detected automatically.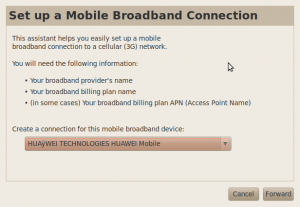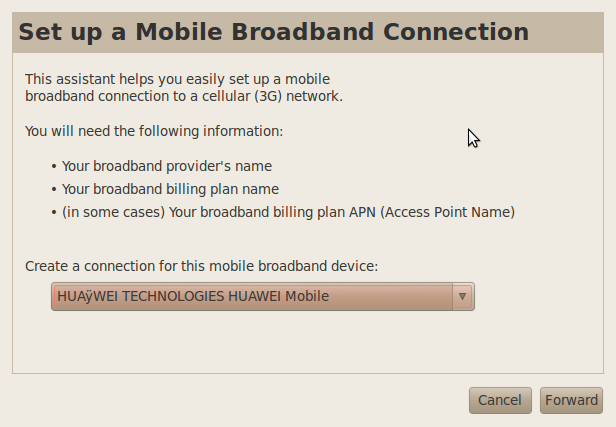 5. Click Forward and select Reliance or your provider name from the list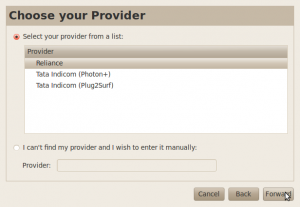 6. When Forward is clicked it will successfully add your modem. And the following window will appear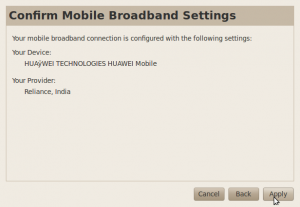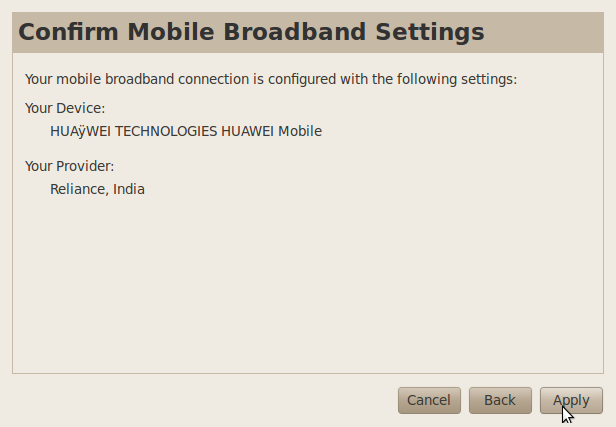 7. Select Apply and put your credentials to access the device, username will be your modem phone number and your password will be the same.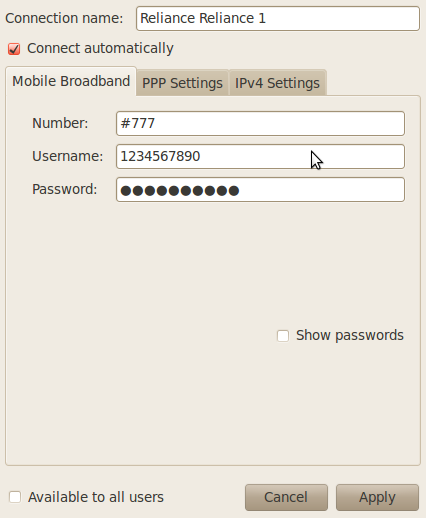 8. Select "Connect Automatically" and click Apply
Thats all, this will get you connected.
Any problem, feel free to ask…
Cheers!! 😀