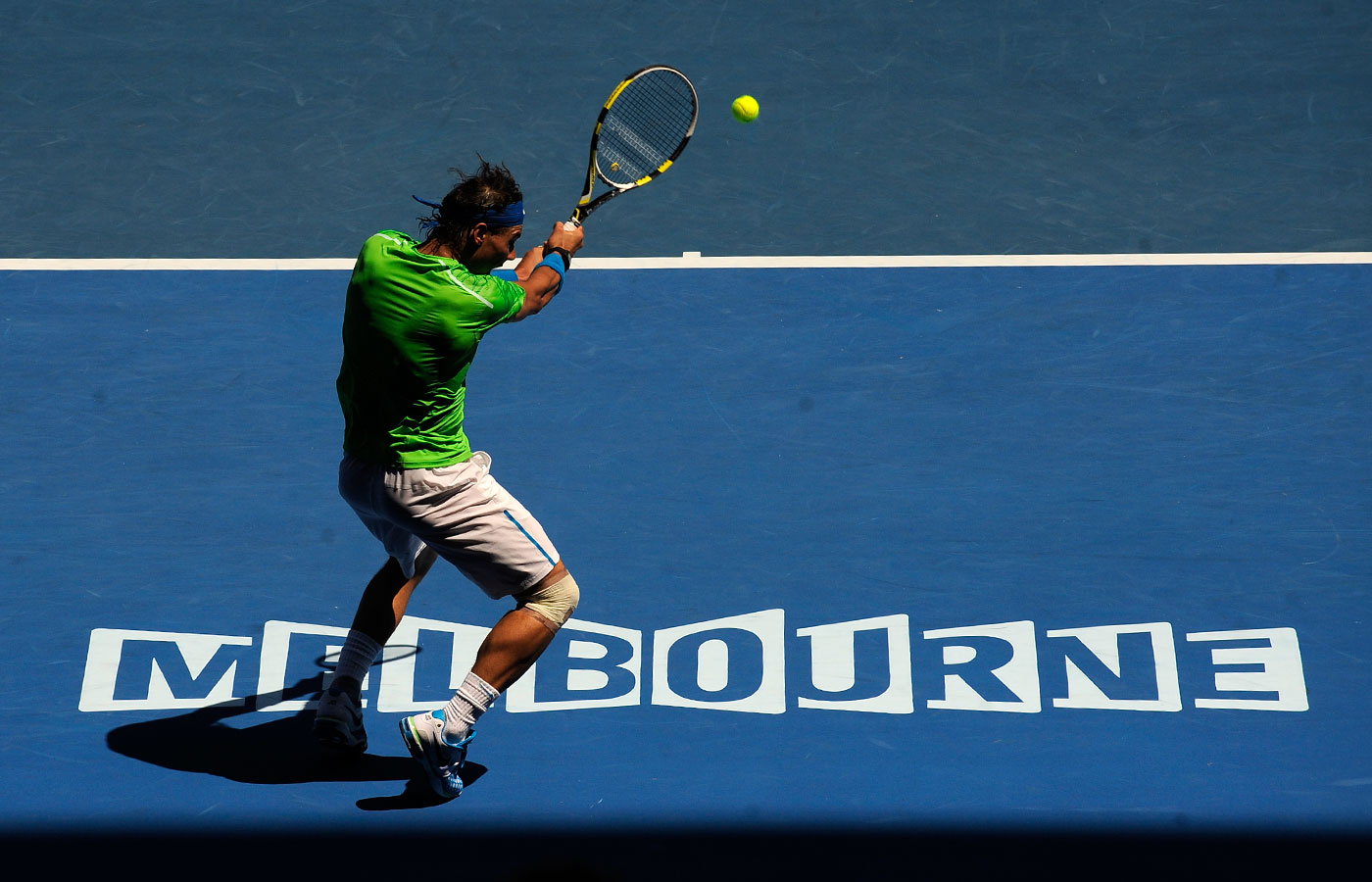 The Indian cricket team may be down and out in Australia but the Indian sports fan can still enjoy watching their favourite tennis stars play at Melbourne Park. The first round for the Single's section (for both Men and Women) has come to a close and the victors are now in the round two. The top seeds went through their respective first round matches with relative ease; lets take a look into some highlights as some upsets and close five setters too were witnessed at the Oz Open '12.
Top seed and World No.1 Novak Djokovic showed his impressive touch as she literally destroyed his first round oponent in Paolo Lorenzi 6-2, 6-0, 6-0, however more than the class and gameplay of the Djoker it was Lorenzi's poor performance that ousted him in 92 minutes. World No.2 and the Second Seed Spainard Rafael Nadal started slow against his opponent Alex Kuznetsov but managed to wrap up the last to sets in an hour as the match took nearly two hours to finish. Nadal looked in good nick towards the end by hitting more aces and coming to net more often even as he played with the strapped right knee. Four time Champ and always a fan favourite Roger Federer also had a watchfull start but clobbered in 14 aces to demolish his opponent. Federer seem to have got a walkover in second round match as his second round oponent Andreas Beck from Germany was not able to compete because of back injury, this will give Roger a fresh start for this third round match. Britain's Andy Murray and Spain's Pitbull David Ferrer too had convincing wins over their opponents. Murray lost the first set of his first round match against young American Ryan Harrison, but clawed his way back to win the remaining three with relative ease. Ferrer on the other hand did not face any such set backs as he won against his Portuguese opponent.
Lets take a look into the few upsets and the close five setters now. Day 1 morning saw a match like no other, young and beaming Australian Bernard Tomic was up against the man who made Rafa run for five hours in 2009, Fernando Verdasco. Verdasco won first two sets and then lost his way. The first set saw the two in a slugfest, the match looked to be a top class one as Verdasco capitalized on the one of the three breakpoint opportunities he got to win the set 6-4. The second set was a let down as the players became loose as more unforced errors started coming into picture. Verdasco didn't serve anywhere near to the quality he had in the first set and the set went into a tie break which Verdasco eventually won. Tomic was staring down the barrel, but he had fight left in him; the third set Tomic took the spanish bull by the horn, dictating terms and served exceptionally well and encashed the only opportunity thrown at him winning the set 6-4 and getting back in the match. Tomic needed help from Verdasco to win this, and he got it as the Spainard faultered badly in the fourth set with the double faults and poor serving. Tomic broke Verdasco thrice and won the set 6-2. Verdasco has been a lot of five setters so he looked to be the favourite, however the calmness surrounding young Tomic was reassuring. Verdasco looked fatigued as he gave in five double faults as he looked to spear in his aces and Tomic with an average fifth set game won the set by converting the only break point opportunity he got; it was game, set, match Tomic as the 22nd seed Spaniard was ousted.
Another Spanish in former World No.1 Juan Carlos Ferrero lost his first round match against a much tough opponent in Viktor Troicki. Troicki came from two sets down, serving exceptionally well with 81% first serve win percentage to win the match quickly in last three sets. On his way to victory Troicki rocketed 27 aces. Frenchman Gilles Simon and Spanish Marcel Granollers too won themselves on the winning side of their five setter first round matches. Austrian Jurgen Melzer faced defeat in his first round match against the tallest man in the Open, Ivo Karlovic. Karlovic committed only three unforced errors in the entire length of the match, Melzer did try to fight back but the 24 aces and serve and volleying by the tall Croat was too much for him to handle. Melzer lost in straight sets, even though his gameplay would have won him match against many players, it was not enough against the tall, heavy serving Karlovic.
With the first round matches wrapped up and second round matches going on as I am writing this we are sure we are going to witness on hell of a tournament. Untill the next round, its good bye from Anshuman.
Cheers! 😀