On the June 1,2016 a video titled – The DNA Journey was uploaded on YouTube and in 10 days generated 4.5 M views. Although this statistic is not enough to qualify it as a viral video, it definitely stirred up some emotions and realizations on social media. If you have not seen it yet, here is the video.
The Social Media Response
Would you dare to question who you really are? momondo – The DNA Journey #LetsOpenOurWorldhttps://t.co/XZ6r5GYSl7 pic.twitter.com/U9zza7DnYl

— momondo (@momondo) June 2, 2016

The video did get some very positive response at the same time there were some with slightly harsher comments on the "acting" of the participants (you can see this in some of the YouTube comments). I liked the idea of the video, but was taken aback on some of the things the participants said. If you had ever attended the science or geography class in school, you would know this for a fact that we are all mixed to certain degrees (its just the matter as to what is the mix). But Xenophobia and Racism does exist and I guess the creative team tried to use the negativity to create contrast.
The Branding
This video is actually an advertisement produced by Momondo, which is a travel agency website that helps you search for flights, hotels etc. And it's a known fact that this industry is packed and competition is high. It is only to a certain degree that you can offer discounts and coupons to attract consumers. This advertisement attempts to send message different from what companies in this space have tried before. The message of, "Travel to explore yourself", will definitely adhere more to minds of their consumers than how discounts do. They have set up a competition where they will be sending the some 500 DNA kits to the winners, thus creating a gaming experience and creating anticipation (sorry, still working on the post for this). Momondo isn't the first one to have a campaign like this, a lots of companies in the FMCG segment have been doing this for long time. Coca-Cola and most notably Dove's Real Beauty campaign are similar to this.
Could They Have done Better?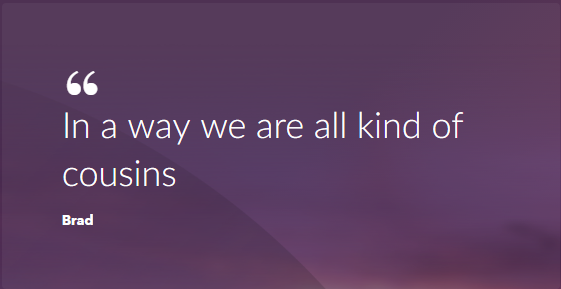 Firstly, this video would definitely convey the required message to their target consumers. However, I am not sure if there are people who actually believe that they are 100% of anything. Apart from this, the idea of discovering yourself is powerful in itself and doesn't require the negativity of Xenophobia or Racism to make it stand out. So if the video could just have focused on giving them the realization of what makes them who they are it would have been better, in my opinion. But a great ad nevertheless.
Image courtesy http://www.momondo.com/letsopenourworld/