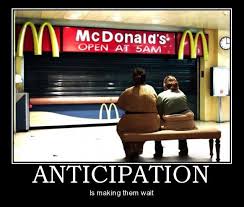 They say that reflection is key to gaining knowledge. Thus, I am planning to come up with some blog posts through which I share my reflections of what I have learnt during my MBA. If you haven't already, do read my previous post where I try to understand and share how did Mountain Dew manage to generate sales as a morning drink soda while its predecessors failed. This is post is first of two parts (not to make the post too big, the next part is looong) where I try to find out why recently some companies are making the lives of consumer slightly difficult by raising anticipation and having stock outs contrary to the accepted knowledge of keeping the consumers comfortable, happy and giving them what they desire.
While studying the basics of marketing, I learnt the concept of marketing mix (also called 4Ps). This concept lists out parameters that would make your product/service most attractive to your consumers. The following is the list of these parameters which are strategized based on the characteristics and need of the target consumer–
Product: Description of the product, its attributes (especially how it is different from those provided by the competition), etc. This concept can be expanded into product portfolios and cross selling.
Place: Where does the consumer find the product. This is done keeping in mind where do your target consumer spend most of their time shopping or which place is more convenient for them to shop at.
Price: This is more complicated than just putting a number on the product/service. From target's consumer buying abilities to competition pricing all needs to be considered before setting the price.
Promotion: This is exactly what the general knowledge says, understanding your target consumer mindset and promoting your product to make them perceive what you want them to perceive.
In summary you make your product standout, so that your consumers choose you over your competitors. With this fundamental cleared up you can design the marketing mix for any product if your know your target customer well. Apart from marketing mix, companies put in a lot of efforts to make the buying journey smooth and making as many consumers as possible happy. Glitches in customer service, stock outs are considered dreadful as you may lose your customers to your competition.
That being said, recently one can find some case studies where the companies are trying everything to keep the products out of reach of its consumers. Some notable ones that come from top of my head are:
OnePlus's initial "invite" system that limited the circulation of the phone greatly.
Xiaomi's flash sales where they run out of stock within five seconds.
Apple almost always stocks out on preorders within few hours.
In the next part of the post I will discuss a little on this new technique of anticipation creation and limiting consumption by taking Xiaomi as an example. And try to come up with some ideas as to when should one do this and when one should not (or stop doing it).