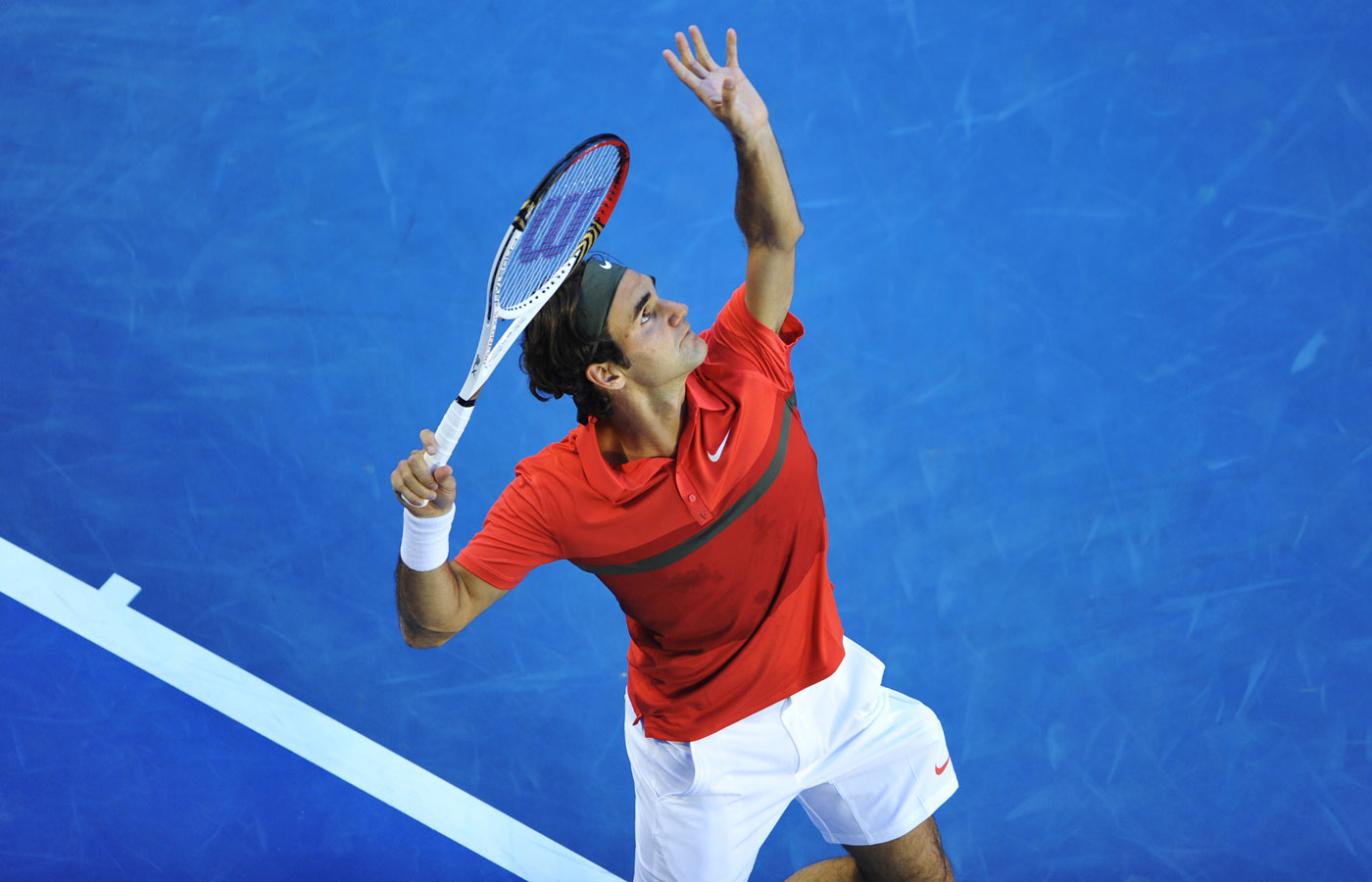 Its almost a week into the Oz Open 2012 and as expected with all the players playing their best it has been nothing less than fantastic. Round two in Men's and Women's Singles have has already come to a close and Round three will be ending today i.e. 21st Jan. After a few initial hiccups and upsets the tournament has been fairing as predicted by many tennis fans around the world. The top seeds have yet to see any kind of upset even though they had to raise their level of tennis every game to beat their opponents. However there were few retirements in both men's and women's singles draw as players were injured during the match. The most anticipated match between Aussie fan favourite Lleyton Hewitt and his old American rival Andy Roddick ended with Andy's retirement because of the hamstring injury he faced during the course of the match. (For Live scores check out the Australian Open widget on the right side)
World No.1 and the No.1 seed Novak Djokovic continued his good form as he kept his matches short and crisp. Djokovic's exceptional returning game has put his opponent in the spot of bother, Djokovic has won his second round match in straight sets 6-3 6-2 6-1 against Columbia's Santiago Giraldo to meet Frenchman Nicolas Mahut in Round 3, Djockovic showed his amazing form in Melbourne Park as he defeated Mahut in nearly 80 minutes with a score line to envy many 6-0 6-1 6-1. After this Djokovic has lost just 10 games in three matches, which is his best in the Grand Slams. Djoker will now face the winner of the match between crowd favourite Lleyton Hewitt and Canada's Milos Raonic. Meanwhile starting from the other end of the draw World No.2 Rafael Nadal too had a good day at the office where he beat former World No.2 Germany's Tommy Hass comfortably with a score of 6-4 6-1 6-1 and went on to beat Slovakia's Lukas Lacko against whom Nadal dropped a set few months back 0-6. However the Spaniard was on his game and comfortably defeated his opponent 6-2 6-4 6-2. Nadal admitted that the game was tough even though the score line doesn't suggest so. Nadal also reported that his knee is doing fine and he is happy with the game he is playing.
World No. 3 Roger Federer is cruising along quietly. Federer got a walkover in second round and faced a tough opponent in Ivo Karlovic in the third round. Federer didnt succumb to the pressure of playing the giant. Karlovic made a lot of errors and finally lost, but the match was nothing short of a classic. Federer defeated Karlovic with a final score of 7-6(6) 7-5 6-3. He will face Bernard Tomic who has been playing his best tennis so far. Tomic defeated the 13th seed Alexander Dolgopolov of Ukraine 4-6 7-6(0) 7-6(6) 2-6 6-3 in his third round encounter. Tomic had defeated Spain's Fernando Verdasco in first round and Sam Querrey on his route to face Dolgopolov and now Federer. Britain's Andy Murray defeated Frenchman Edouard Roger-Vasselin in the their second round match 6-1 6-4 6-4. Murray showed exceptional level of athleticism during the course of the match as his opponents pushed him to the limits. Murray to face another Frenchman in Michael Llodra in the third round.
The Fifth seed Spaniard David had a tough task cut ahead of him when he faced Ryan Sweeting in the second round, but still managed to defeat him in straight sets  6-7(4) 6-2 3-6 6-2 6-3. Ferrer had a comparatively easy third round match where he was against Juan Chela of Argentina. Ferrer who must have seen his opponent last in Spain's Davis cup tie with Argentina defeated him in straight sets 7-5 6-2 6-1 to reach the fourth where he is going to face Richard Gasquet of France. Gasquet defeated the second most popular Serb Janko Tipsarevic in straight sets 6-3 6-3 6-1.
The matches from now on will be tough and more mental than physical. Lets hope that the best player wins. Here are some results in Mens Section
Singles – Second Round
[1] N Djokovic (SRB) d S Giraldo (COL) 63 62 61
[4] A Murray (GBR) d E Roger-Vasselin (FRA) 61 64 64
[5] D Ferrer (ESP) d R Sweeting (USA) 67(4) 62 36 62 63
[6] J Tsonga (FRA) d R Mello (BRA) 75 64 64
[9] J Tipsarevic (SRB) d J Duckworth (AUS) 36 62 76(5) 64
J Benneteau (FRA) d [12] G Simon (FRA) 75 76(10) 16 36 62
[14] G Monfils (FRA) d T Bellucci (BRA) 26 60 64 62
L Hewitt (AUS) d [15] A Roddick (USA) 36 63 64 ret. (hamstring)
[17] R Gasquet (FRA) d A Golubev (KAZ) 64 62 30 ret. (abdominal strain)
M Kukushkin (KAZ) d [19] V Troicki (SRB) 57 64 62 46 63
[24] K Nishikori (JPN) d M Ebden (AUS) 36 16 64 61 61
[23] M Raonic (CAN) d P Petzschner (GER) 64 57 62 75
F Gil (POR) d [26] M Granollers (ESP) 63 46 64 63
[27] J Chela (ARG) d P Andujar (ESP) 64 64 63
M Llodra (FRA) d [32] A Bogomolov Jr. (RUS) 61 63 46 57 64
N Mahut (FRA) d T Ito (JPN) 16 76(6) 62 62
Doubles – First Round
[1] B Bryan (USA) / M Bryan (USA) d J Erlich (ISR) / A Ram (ISR) 76(6) 64
[2] M Mirnyi (BLR) / D Nestor (CAN) d B Mitchell (AUS) / M Reid (AUS) 62 62
[3] M Llodra (FRA) / N Zimonjic (SRB) d J Kerr (AUS) / D Young (USA) 76(6) 63
[5] J Melzer (AUT) / P Petzschner (GER) d N Almagro (ESP) / P Riba (ESP) 64 64
[7] R Lindstedt (SWE) / H Tecau (ROU) d A Siljestrom (SWE) / I Zelenay (SVK) 63 76(6)
V Hanescu (ROU) / O Rochus (BEL) d [9] O Marach (AUT) / A Peya (AUT) 76(4) 46 75
[10] E Butorac (USA) / B Soares (BRA) d F Gil (POR) / D Gimeno-Traver (ESP) 76(5) 76(9)
J Knowle (AUT) / M Kohlmann (GER) d [16] P Hanley (AUS) / J Murray (GBR) 76(2) 46 76(5)
D Bracciali (ITA) / P Starace (ITA) d X Malisse (BEL) / K Skupski (GBR) 76(4) 63
M Elgin (RUS) / A Kudryavtsev (RUS) d R Haase (NED) / J Nieminen (FIN) 62 76(6)
M Mertinak (SVK) / A Sa (BRA) d A Dolgopolov (UKR) / D Molchanov (UKR) 62 62
C Ebelthite (AUS) / M Matosevic (AUS) d L Saville (AUS) / A Whittington (AUS) 60 63
F Cipolla (ITA) / D Istomin (UZB) d J Duckworth (AUS) / A Feeney (AUS) 62 36 76(5)
C Ball (AUS) / T Huey (PHI) d I Karlovic (CRO) / F Moser (GER) 63 64
J Cabal(COL) / R Farah (COL) d S Stakhovsky (UKR) / M Youzhny (RUS) 64 75
C Berlocq (ARG) / L Mayer (ARG) d J Cerretani (USA) / D Norman (BEL) 36 64 76(6)
P Andujar (ESP) / G Garcia-Lopez (ESP) d T Kamke (GER) / F Nielsen (DEN) 63 26 63
Singles – Third Round
[2] R Nadal (ESP) d L Lacko (SVK) 62 64 62
[3] Roger Federer (SUI) d I Karlovic (CRO) 76(6) 75 63
[7] T Berdych (CZE) d [30] K Anderson (RSA) 76(5) 76(1) 61
[10] N Almagro (ESP) d [21] S Wawrinka (SUI) 76(2) 62 64
[11] J del Potro (ARG) d Y Lu (TPE) 62 63 60
B Tomic (AUS) d [13] A Dolgopolov (UKR) 46 76(0) 76(6) 26 63
[18] F Lopez (ESP) d [16] J Isner (USA) 63 67(3) 64 67(0) 61
P Kohlschreiber (GER) d A Falla (COL) 63 62 76(3)
Doubles – Second Round
[1] B Bryan (USA) / M Bryan (USA) d L Hewitt (AUS) / P Luczak (AUS) 63 76(5)
[3] M Llodra (FRA) / N Zimonjic (SRB) d M Lopez (ESP) / D Marrero (ESP) 63 62
[5] J Melzer (AUT) / P Petzschner (GER) d J Chela (ARG) / E Schwank (ARG) 62 64
[7] R Lindstedt (SWE) / H Tecau (ROU) d C Ebelthite (AUS) / M Matosevic (AUS) 36 64 62
[10] E Butorac (USA) / B Soares (BRA) d F Cipolla (ITA) / D Istomin (UZB) 62 63
[12] S Gonzalez (MEX) / C Kas (GER) d C Berlocq (ARG) / L Mayer (ARG) 46 76(5) 61
[13] S Lipsky (USA) / R Ram (USA) d M Mertinak(SVK) / A Sa(BRA) 57 63 62
L Paes (IND) / R Stepanek (CZE) d [14] S Bolelli (ITA) / F Fognini (ITA) 62 76(5)
[15] C Fleming (GBR) / R Hutchins (GBR) d A Bogomolov Jr. (RUS) / I Kunitsyn (RUS) 60 63
D Bracciali (ITA) / P Starace (ITA) d J Knowle (AUT) / M Kohlmann (GER) 64 64