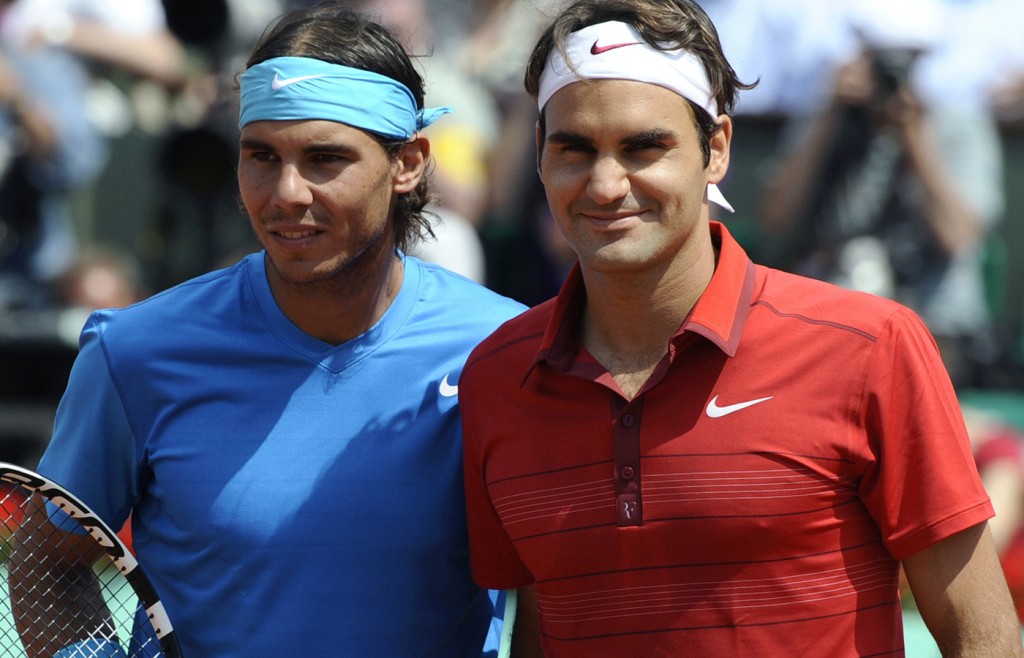 Australian Open was absorbed in some high class and highly entertaining tennis for past two days as the Semi Finalists, the Final four were being decided for the first grand slam of the year. Men's Singles saw the top four seeds emerge victorious through their Quarter Final matches to book their semi final berths. All the matches except the one between the seventh seed Czech Tomas Berdych and the World No.2 Rafael Nadal which went on for four hours sixteen minutes and for four sets. Nadal emerging as the victor after some mind blowing high quality tennis. On the other hand the other semi finalists in World No.1 Novak Djokovic, World No.3 Roger Federer and World No.4 Andy Murray all qualified quite conveniently. Lets take a look at how the events turned out in the sequence of their happening.
Roger Federer[3] def. Juan Martin Del Potro[11]
World No.3 Roger Federer was up against another giant of a man from Argentina, Juan Martin Del Potro. Del Potro had just dropped a set and was in phenomenal form and was posing like a great road block for the four time Champion Federer. Roger Federer however showed his experience and was winning nearly 90% on his first serves. Federer in complete command broke Del Potro five times in the match and which ended a minute shy of two hours. Del Potro did what he could, he served big attacked with massive forehand and  approached the net, but his effort seemed dwarfed when compared with the stature of Fed Express. Federer wrapping up the match in straight sets 6-4 6-3 6-2.
Rafael Nadal[2] def. Tomas Berdych[7]
The World No.2 Spaniard had his hands full when he faced Tomas Berdych of Czech Republic. In a nothing short high intensity classic match up which kept every single soul on the edge of its seat Nadal prevailed in four sets. Nadal started nervous, as he said in his post match interview even though he had defeated the man across the net nine consecutive times. Berdych was on the other hand looking to break this jinx. Berdych started of well and took the first set in a tie breaker, the level of tennis was of high quality from both players as they lifted their game to match the other. Nadal came more to the net and even won those points. In the closing session of the game Nadal lifted his game to the top notch as he served and returned well. He got better on his serve, quicker on his feet as the audience bare witness Nadal's olden days ever so relentless and I won't be exaggerating if I said, Omnipresent on the court. Nadal won the four hour encounter 6(5)-7 7-6(6) 6-4 6-3. Nadal will face Federer in the semi final clash.
Andy Murray[4] def. Kei Nishikori[24]
The temperamental faced an exhausted opponent in Japan's Kei Nishikori. Nishikori has already created history after he reached the Quarter Finals stage of Oz Open '12. But the samurai wasn't good enough for Murray as he dispatched Nishikori in straight sets. If I say Nishikori didn't put an effort, I will be wrong. The Japanese was better than Murray on serve however couldn't win and committed a lot of unforced error. Murray who is in a scintillating form this season was too good with the overall game. Murray looking good to take his first Major slam.
Novak Djokovic[1] def. David Ferrer[5]
The Pitbull would have relished the weary weather of an Australian day than his match against Novak Djokovic which took place in the cool evening. Ferrer who is one of the fittest person on tour was not fit enough for the Serb. Djokovic showed his class in the starting of match breaking Ferrer and taking the set 6-4. Djokovic got an early break in the second set too but was broken back by Ferrer. Ferrer looked to comeback but they went on serve to a tie breaker where he faltered giving the second set too to the Djoker. With two sets in hand, Djokovic played fearless tennis in the last set, coming to the net and winning an amazing 91% on first serve. Djokovic will face Murray in the semi final encounter.
Taking a look at the Semi Final clash. FEDAL will be playing in a non final match of a grand slam after seven years. Nadal won their last semi final encounter way back in 2005 at Roland Garros which he won that year. Great friends and great ambassadors of the game Federer and Nadal will give look to give an ultimate match to their millions of fans all across the world. I will not be predicting the winner in this encounter.
In the second of the two semi final Novak Djokovic will play Andy Murray. The Djoker looks to be the favourite unless Murray displays the amazing talent he has.
Oz Open has never been better!
Cheers! 🙂
P.S. This just in. Maria Sharapova has set up a match against Victoria Azarenka for the Women's Championship