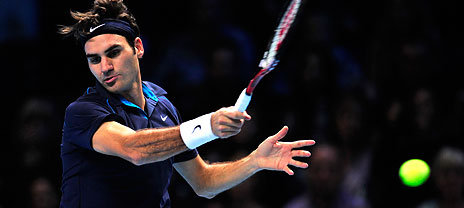 A week into the championship and the finals have been decided. In the Semi Final encounters yesterday. It was the Pitbull David Ferrer after an impressive group stage against the defending champion Roger Federer, who was looking on course to his 100th ATP final. The match started strong as expected, David Ferrer tried to make in roads to get to a breakpoint but Federer was serving phenomenal and he finally broke Ferrer in the first set to win the set 7-5. Federer from there on looked solid was even though Ferrer did produce some beauties Federer was in control all the time and while on serve he lost just one point. Federer was picture perfect and made his way through to his 100th ATP final.
The second Semi final was between to big servers. Tomas Berdych who made a magical win over David Ferrer and Jo – Wilfired Tsonga who defeated Rafael Nadal to get into semi finals faced each other. Tsonga and Berdych played a similar game but Tsonga capitalized on the mistakes made by Berdych and took the breakpoints when he got them and was able to close the set 6-3. In the second set Berdych made a fight and there were back to back breaks but at 6-5 Tsonga broke Berdych again and won the set 7-5. So three Sundays in a row, we are having Roger Federer v/s Jo- Wilfried Tsonga. Federer is in form and surely is the favourite but Tsonga will try to tip the scales in his favour.
In the doubles section Bryan Brothers were defeated by M Mirnyi / D Nestor in straight sets and the Indian pair of Leander Paes and Mahesh Bhupati were too defeated by the eighth seed M Fyrstenberg / M Matkowski.
The final barrier has been reached and the warriors are set for a final push…