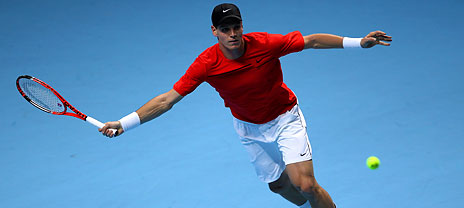 Day Six was the day of Group A. It was a day to make it or break it. Every single match was important and the stakes could not have been higher, a place in Semi Finals of the Masters Finals. Facing off were World No. 1 Novak Djokovic who badly needed to win his final match against his compatriot World No. 9 Janko Tipsarevic, who got a chance after the No.3 seed Andy Murray withdrew from the title race. Novak Djokovic had a 3-0 head to head record over Tipsarevic and at the start of the match Djokovic was looking to make it 4-0. Taking bull by the horns Djokovic showed tremendous talent and service exhibition to close the first set with impressive 6-3 and lost just four points on while serving. Tipsarevic started the next set as both players held their serves until Tipsarevic got a breakpoint and converted it. Leading the set, only to find Djokovic break back as Tipsarevic committed some unforced errors. With game back on serve Tipsarevic gaves his all to get ahead in set once again and he did it, now leading 5-3 Tipsarevic needed to hold his serve and his nerves to get back into the game. Tipsarevic played like never before and he took the set 6-3. He looked like a man with nothing to lose and gave his best with each shot, volley or smash he played. Match went into the deciding set and Tipsarevic plugged the loophole by improving his service games. He did not give even a single opportunity to Djokovic to break him and won the set by breaking Djokovic twice 6-3. Djokovic still had a chance had if the Pitbull David Ferrer wins against Tomas Berdych.
Ferrer hadn't dropped a set in both his matches and Berdych had to give his all to win against a man who defeated Djokovic in straight sets. Ferrer outclass and outran Berdych in the first set winning it comfortably in 33 minutes 6-3. The second set saw Berdych fight and Ferrer making mistakes. Ferrer broke Berdych twice but Berdych came back strong and won the set 7-5 keeping the match alive. The match moved into the decider and Berdych came out stronger, this time around he dictated terms and was terrific on serve, Berdych rocketed in four aces while Ferrer gave in three crucial double faults that made Berdych win the set 6-1 and the match too. Berdych booked his place in Semis. After a week of gruelling tennis here is your semi final draw. Its an all European affair in the O2 Arena. Lets see who wins 😀
| | | |
| --- | --- | --- |
| Semi Final – 1 | Roger Federer (SUI) | David Ferrer (ESP) |
| Semi Final – 2 | Jo – Wilfried Tsonga (FRA) | Tomas Berdych (CZE) |
Meanwhile in the double championship, the Indian pair of Mahesh Bhupati and Leander Paes won their crucial match against the No. 1 seed Bryan Brothers in straight sets and went on top of the group with this victory. They'll be facing the pair of Mariusz Fyrstenberg/Marcin Matkowski in the semi Final match.
Well the matches are set and Sunday we'll see a Champion. See you tomorrow 🙂